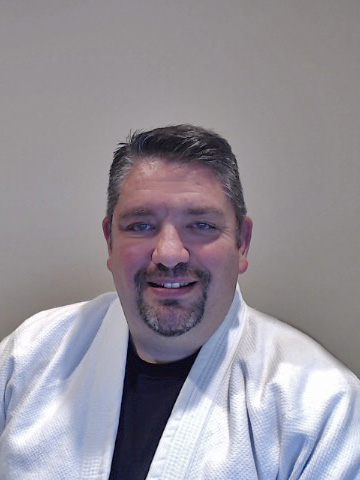 Professor Harris has been studying martial arts for over 30 years. He got his start by tagging along with his older brother who had become interested in trying out a ju-jitsu class at the local YMCA. Life's obligations took his brother in different directions and away from the class, but sensei continued his training, ultimately earning his shodan (1st degree black belt) under Sensei Jim Howard, who had had received his training from Sensei William Fromm. Professor Fromm along with Professor George Kirby, founded Budoshin Ju-Jitsu.
Sensei Jim relocated to California and turned the class over to Professor Wade Susie. Under Professor Susie, Sensei Will Harris continued his training and progressed through the ranks to his current rank of shichidan (7th degree blackbelt) and title of "Professor" in Budoshin Jujitsu.  Sensei Will has also earned a 4th degree blackbelt and title of "Master" in American Combat Jujitsu from Professor Tony Maynard. However, Professor Harris does not require the use of any of these titles and usually prefers simply "Sensei" on the mat or "Will" off the mat.
Throughout his martial arts career, Professor Harris has competed in and judged competitions too numerous to list.  He has also attended and taken part in numerous seminars and learned from a multitude of sensei, including but not limited to such notable sensei as George Kirby (Budoshin Jujitsu), Wally Jay (Small Circle Jujitsu), Gene Roos (Aiki Jujitsu), Dennis McCurdy (Jujitsu), Bruce Jones (Taihojitsu), George R. Parulski, Jr. (Ni-Hon Ryu Jujitsu), Bill Stokely (Seibukan Karate) , Reginald Heffner (Judo), Mark Smith (Judo), Scott Anderson (Sambo), Eyal Yanilov (Krav Maga), Rickson Gracie (Gracie Jiu-Jitsu), Mike Swain (Judo).
Upon Professor Susie's retirement from teaching in 2013, Sensei Will agreed to take over the teaching responsibilities for the dojo.  At the time, classes were held exclusively at the Ward Y in Abingdon, Maryland.  As students requested more training time and the Y was unable to accommodate more classes, Sensei Will founded Baltimore School of Self Defense and opened a dojo in a local shopping center.  Classes have grown from a few nights a week to now having classes 6 days/week.
Professor Harris had previously served on the staff of the American Ju-Jitsu Association as the newsletter editor and is a member of Budoshin Ju-Jitsu Yudanshakai, American Combat Ju-Jitsu Instructor Program, American Ju-jitsu Association and Martial Artists Against Bullying.